Flor de Grasso
Flor de Grasso
Prestige Collection
Perfume with Jasmine of Grasse
Flor de Grasso is a unique fragrance made from natural jasmine produced and grown in Grasse.
It is a fresh and floral fragrance, a walk in the heart of the perfumer's garden, in its flower fields in summer.
In the past, women who collected jasmine said that she was going to pick "the flor," the most beautiful of jasmine.
Olfactory Notes
Jasmine and Petit Grain
Top note : Mandarine, petit grain, bergamote et muguet
Heart note : Jasmin de Grasse
Base note : Musc blanc et cèdre
New 2019
Spray 100 ml, perfume, Made in Grasse
We also suggest you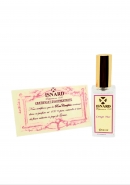 29.00€ 49.00€